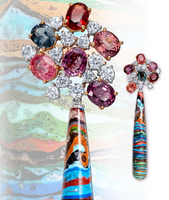 High Jewellery
"I live for colour," says Choudhrie and nestled within her bejewelled menu are natural Basra pearls from the Persian Gulf, diamonds, rubies, emeralds and spinels as magnificent as a Maharaja's treasure chest.
High Jewellery
Fine Jewellery
Our fine jewellery collections are an extension of our design language, a diffusion of our soul so that you can live in our universe every day.
Fine Jewellery
Karina Choudhrie Jewels is a vibrant and contemporary design house based in London, dedicated to the creation of bejewelled masterpieces.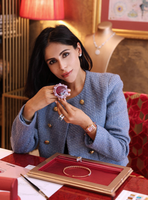 Karina Choudhrie
Karina Choudhrie is a fearless master jeweller who stands for honesty and beauty. The purpose of her work is to empower women with wearable sculpture. 
our story